Sun, 26 June 2016
Episode 52 - The Esophagus
We cover a Scancrit post on the Back Up Head Elevated (BUHE) intubation position. This post details a multicenter retrospective observational study by Khandelwal et al in Anesthesia & Analgesia. Intubating with the head elevated (ear to sternal notch) and the back of the bed up reduces complications.
We delve into core content on the esophagus using Rosen's (8th ed) Chapter 71 and Chapter 77 in Tintinalli (8th ed). We discuss dysphagia, food impaction, and esophagitis.

Thanks for listening!
JEremy Faust and Lauren WEstafer
---
Thu, 16 June 2016
FOAMcastini - The Aorta and No Analgesia Will #!&?% You Up
We cover pearls from smaccDUB (Social Media and Critical Care Conference in Dublin, Ireland), Day 3. We are here thanks to the Rosh Review.
Dr. Scott Weingart - "Post-Intubation Sedation"
Analgesia first. Try a hydromorphone 1mg push while you're waiting for the fentanyl drip. The endotracheal tube is uncomfortable.
Minimize sedation. There's this principle: eCASH:

early Comfort using Analgesia, minimal Sedatives and maximal Humane care [1].

Sedation: go for dexmedetomidine if you have it (but it's expensive) or propofol. This is supported by the Society of Critical Care Medicine (SCCM) Pain, Agitation, and Delirium guidelines [2].
Be careful with rocuronium. The long duration of rocuronium means that you can't assess for pain or discomfort so you must be responsible and get these
Dr. David Carr - "The Aorta Will #!&?% You Up"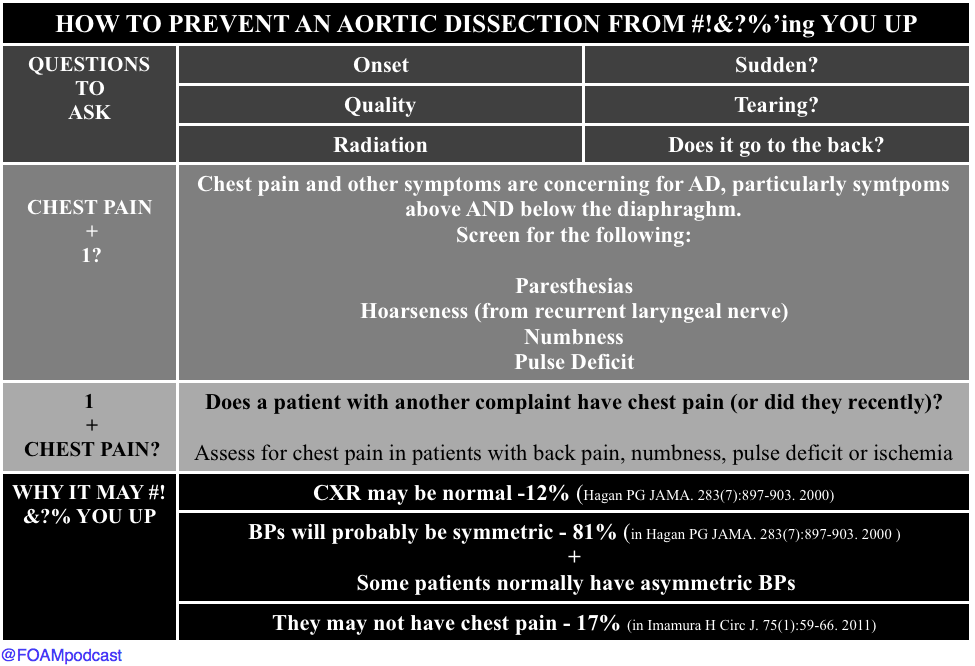 Dr. Kathleen Thomas - "Oh Sh**! They're bombing the hospital!"
We should not need a website entitled STOPBOMBINGHOSPITALS.ORG but, unfortunately, over the past 4 years, 400 hospitals have been bombed. This passionate, wrenching talk is a "must see" and "must listen" when the free talks are released on the SMACC podcast over the course of the next year.
ive use in the emergency department. Emergency medicine journal : EMJ. 30(11):893-5. 2013. [pubmed]
Imamura H, Sekiguchi Y, Iwashita T et al. Painless Acute Aortic Dissection. Circ J. 75(1):59-66. 2011. [article]
Diercks DB, et al. Clinical policy: critical issues in the evaluation and management of adult patients with suspected acute nontraumatic thoracic aortic dissection. Ann Emerg Med. 2015 Jan;65(1):32-42.e12. PMID: 25529153.
Hagan PG, Nienaber CA, Isselbacher EM. The International Registry of Acute Aortic Dissection (IRAD): new insights into an old disease. JAMA. 283(7):897-903. 2000. [pubmed]
---
Wed, 15 June 2016
FOAMcastini - Undifferentiated Agitation and Cured Pork
#smaccDUB day 2
Dr. Reuben Strayer - "Disruption, Danger, and Droperidol: Emergency Management of the Agitated Patient."
Dr. Strayer presented a brilliant talk on dealing with the quintessential Emergency Medicine patient - the undifferentiated acutely agitated patient. These patients are high risk and require emergent stabilization and resuscitation.
Dr. Haney Mallemat - "The PEA Paradox"
The typical way we think about PEA, the "H's and T's," is overly complicated. Further, we are horrendous at pulse palpation (see this for more), and so what we think is PEA may not actually be PEA. Dr. Mallemat proposed QRS duration as one way to think about PEA, although this has limitations.
Dr. Michele Dominico - "How Usual Resuscitative Maneuvers Can Kill Paediatric Cardiac Patients"
Interventions we jump to in sick patients - oxygenation, ventilation, vasopressors - these can kill pediatric patients with cardiac pathology. She gave examples of some high yield pearls in these already terrifying patients.
EM Literature update by Drs. Ashley Shreves and Ryan Radecki
Interesting and Ridiculous Research Pearls from Drs. Ashley Shreves and Ryan Radecki
Perception of dyspnea and pulmonary function tests change with stress - and rollercoaster rides. Rietveld S, van Beest I. Rollercoaster asthma: when positive emotional stress interferes with dyspnea perception. Behaviour research and therapy. 45(5):977-87. 2007. [pubmed]
Cured pork for epistaxis? Possibly. Researchers will try everything, especially if it involves bacon. Humphreys I, Saraiya S, Belenky W, Dworkin J. Nasal packing with strips of cured pork as treatment for uncontrollable epistaxis in a patient with Glanzmann thrombasthenia. The Annals of otology, rhinology, and laryngology. 120(11):732-6. 2011. [pubmed]
---
Tue, 14 June 2016
FOAMcastini - Do We Make Saves?
We are at SMACC in Dublin - thanks to the Rosh Review, an excellent board review question bank. Here are some of our favorite pearls.
Do We Make Saves?
Dr. Mervyn Singer "Is Survival Predetermined in the Critically Ill?"
Many critical care studies are negative, but in some cases this may be because critically ill patients don't have a uniform prognosis.
Dr. Singer argues that some people may be "destined to die" and some may be "destined to live." So, it's not really us "saving the patient", it's just the math playing out. Interventions may be harmful or futile in one group but beneficial in the other. For example, Dr. Singer references the CORTICUS trial of steroids in septic shock. This was a negative trial. Dr. Singer asserts that some evidence (of not great quality), purports that the sickest patients could benefit from steroids, while this same intervention could be deleterious in the healthier ones.
Problem: many of the studies that go back and re-analyze these groups looking at the sickest or least sick patients? They perform subgroup analyses, a form of data dredging that must be taken with a huge grain of salt.
Favorite Pearls
Dr. Suzanne Mason - "Acute Care of the Elderly"
Hospital admission may not benefit geriatric patients - interdisciplinary interventions involving nurses, consultants, pharmacists, physical therapy may be best.
If there is a single, free intervention that providers can do it's assessing for polypharmacy. Polypharmacy in the elderly is a huge problem. Check the patient's medication list and beware adding new medications that may not be absolutely necessary.
Dr. Victoria Brazil - "So You Think You're a Resuscitationist?"
The Dunning-Kruger effect is real in medicine and this is why we MUST have and provide feedback. A review of the Dunning-Kruger effect can be found here. Essentially, people tend to overestimate what they know (i.e. overly confident in their knowledge). The exception? Masters tend to underestimate their knowledge.

Our perception of reality is very skewed so, again, feedback is crucial. For example, Cemalovic and colleagues found that intubators underestimated the time they took to intubate: they estimated 23.5 seconds on average vs the 45.5 seconds intubation actually took. Additionally, they thought 13% of their patients desaturated during intubation but 23% actually desaturated.
---
Thu, 9 June 2016
Episode 51 - Eye Trauma
We cover this short video from EMRAP on lateral canthotomies. This is one of those rare procedures that is vision saving; hence, it is worthy of frequent review.
Then, we delve into core content on orbital fractures, hyphemas, and ocular burns using Tintinalli and Rosen's Emergency Medicine as a guide.
Show notes and references at foamcast.org
Thanks for listening!
Jeremy Faust and Lauren Westafer
---